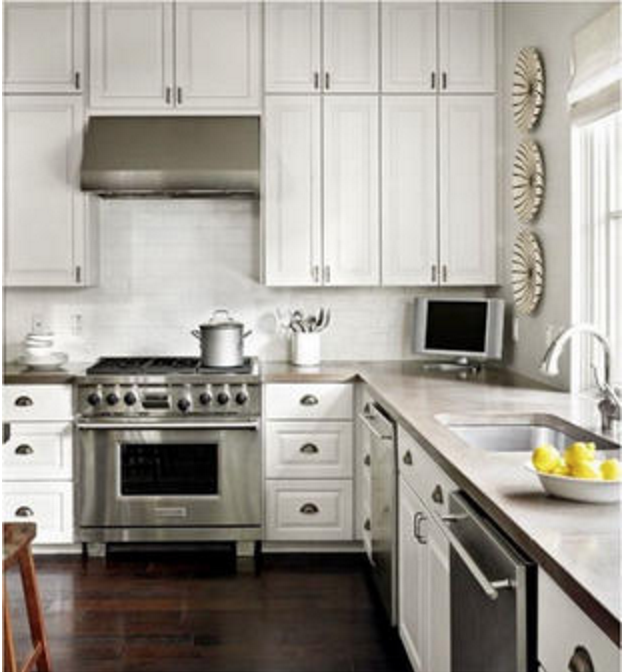 When designing a bathroom or kitchen its crucial to understand the different types of materials that you are bringing into your home, not only so you can pick the best looking one, but also so you can chose a material that fits into your lifestyle. Some people don't want a countertop that's going to require constant upkeep so instead of picking a marble you may want to consider choosing man-made quartz instead. The materials that you choose to bring into your home can change the space very easily and can be a big investment, so its important to do your research and make sure you know exactly what your getting. Check out our countertop round-up so you make a good educated selection.
If you like marble countertops..
The most popular white marbles are Bianco Carrara which is known for its greyish white feathery veining; Calcutta, a more pure white with dramatic grey veining; and then the rarest of the white marbles, Statuario, it is laced with black and brown veining. Although marble is heat resistant its still very expensive and it requires constant upkeep, to keep it looking new.
If you want that same look and feel of marble but don't want as much up keep then you should chose a man-made quartz composite countertop. Another great thing about choosing quartz is that it doesn't come with that big marble price tag, how great is that?! Some of my favorites to choose from would be these:
Another big trend for kitchen and bathroom countertops are bringing in more natural elements like wood, which is understandable in this eco friendly conscious world we currently live in. There a couple different choices you have when deciding on bringing in wood; you can have a butcher block, which is the most common; reclaimed wood and; live edge wood, which tends to be more common in commercial spaces but its making its way into the residential scene as well. The biggest pro of choosing a wood countertop is the look and the natural element it brings to your space. Some of the down sides to wood counter tops are that it requires constant upkeep, you don't want it to get any water damage so you have to make sure that it get sealed properly. Here are a couple of my favorite options:
Believe it or not but concrete counter tops look very sleek and can add warmth to your kitchen or bathroom when used appropriately. Although concrete requires some maintenance with sealers it makes the perfect choice for a custom countertop and finish. Concrete can come in many different stains and you can adjust the thickness and inlays depending on the space and overall style you want. Concrete is so customizable that its easy to pick just about any pigment you want for your counter top.